Do You Have Your Christmas Wishlist Ready?
PUBLISHED ON December 18, 2014 | STAFF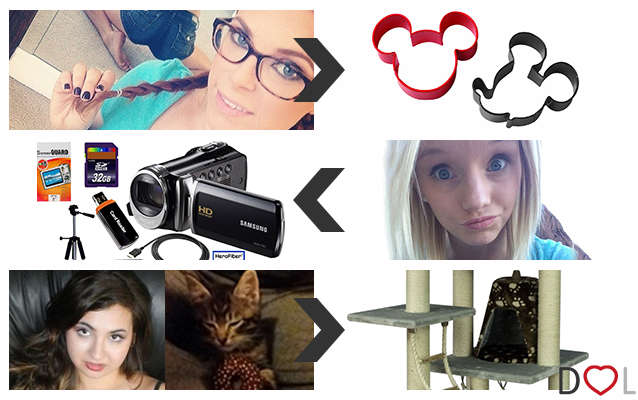 Everyone who celebrates Christmas remembers creating a Christmas wish list so Santa Claus would know what they wanted to see under the tree on Christmas morning.
But as you grow up, the list tends to change into a to-do list, and you worry about buying presents for other people instead of what you might be receiving. Santa might not be sliding down our chimney anytime soon, but there are many Dream Lovers who have created their lists and checked them twice. And they're hoping that they have been good enough so they can find their favorite presents under their own Christmas tree this year.
Sammie Daniels, for instance, has a Christmas list that includes a variety of new electronic equipment and designer purses. She's been actively updating her list this month and hopes to receive a video camera set, along with a new laptop. We hope someone crosses this item off of her list!
Lilith Storm also has her own list, which she's been working on. And it's quite long, with a variety of items. By the looks of Lilith's list, we're under the impression she's decorating her house, upgrading her lingerie collection, and even hoping she can get something for her pet. Lilith and her cat will be ready for anything if her Christmas list is all crossed out. If her cat's lucky enough, it'll have its own brand new climbing structure!
Penny Pax is another Dream Lover who has compiled a wish list for this merry season. After looking over most of her desired items, there seems to be a general recurring theme for the gifts: Mickey Mouse. Penny's list involves a variety of Mickey-themed gifts, some of which are quite unique. These items are either quite normal, like Mickey Mouse Kitchen and Bathroom towel sets, or these items are truly different, like a Mickey Mouse pepper grinder or the Mickey Mouse ears ice trays. I say we forget all the memorabilia, and someone get this girl a trip to see Mickey Mouse in person!
Whether you've been nice or a little bit naughty this year, you still hope to have a gift to open, as do these Dream Lovers. You can help them have a very Merry Christmas by getting them a little surprise from their wish list … because, remember, it always feels better to give than to receive. We hope everyone gets from their very own list this year!
FIND A
DREAM LOVER
MESSAGE
Text directly with your Dream Lover using your own mobile phone.

TALK
Talk one on one with your Dream Lover using your own mobile phone.

SHARE PICTURES
Receive photos and media from your Dream Lover on your own mobile phone.
Like us on Facebook if you are chasing love in the 21st century
LIKE DREAM LOVER ON FACEBOOK
MORE ON DREAM LOVER