Jealous Boyfriend Snaps Over His Girlfriend's SnapChat BFF
PUBLISHED ON February 12, 2015 | STAFF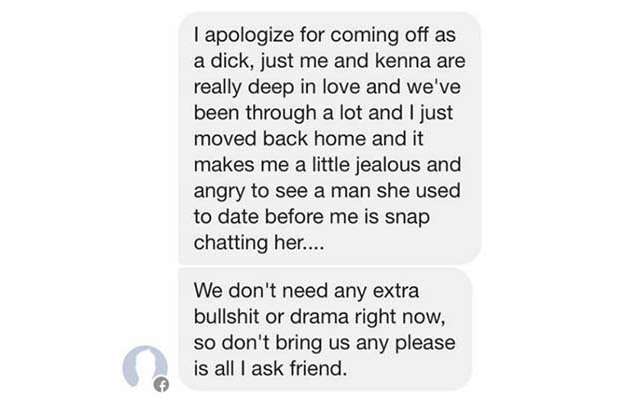 You won't believe how this jealous guy goes cray cray in a Facebook rant! We're actually happier this played out in text instead a physical fight.
Gone are the days where two men would challenge one another to a duel over a female by taking it outside. Remember that epic fight with Hugh Grant and Colin Firth from the movie Bridget Jones's Diary?
Apparently, those days seem to be over! And rightfully so. Today, some dudes are find it easier to just take it online. Why use your fist when you can use Facebook, right?
That's what one guy did in an attempt to defend his girlfriend McKenna, who he is deeply madly in love with. So crazy in love, that he flips out on Kenna's SnapChat BFF and goes COMPLETELY BALLISTIC in a hilarious rant on Facebook. We can only imagine what would have happened face to face! In the guy's defense...he does seem to be "sorry" an awful lot for coming at the man he's threatened by so harshly.


1. Out of the frying pan, and into the fire...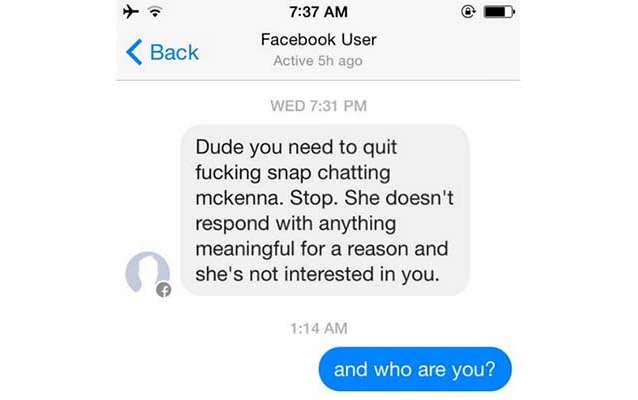 2. "Sorry I bothered you, kid..."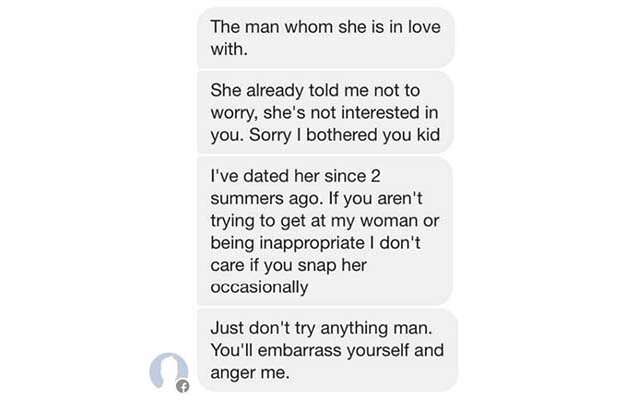 3. So sincerely sorry.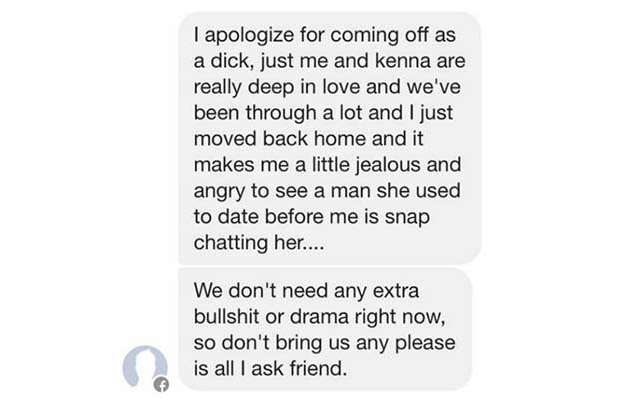 4. In between bragging about his penis size...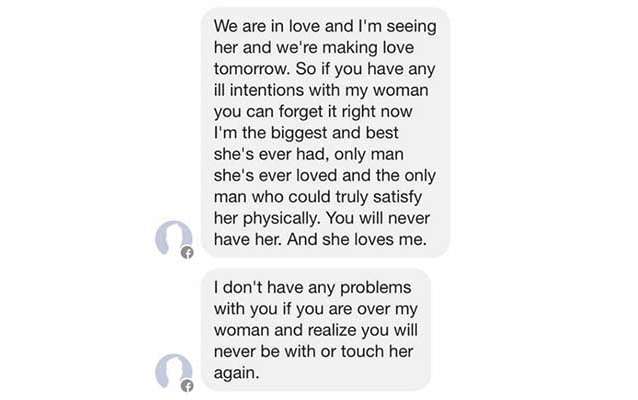 5. What a good friend!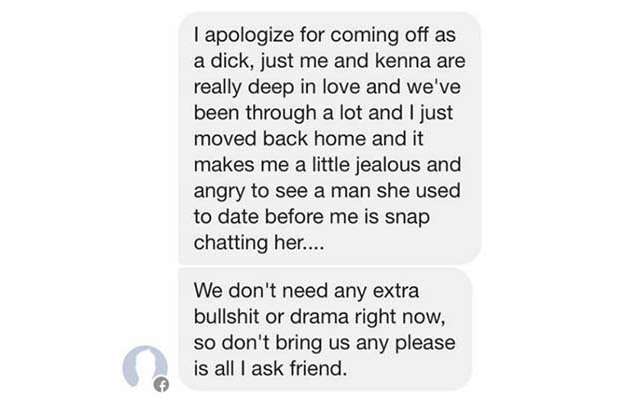 6. This guy just broke the record for times you can apologize in a cyber fight.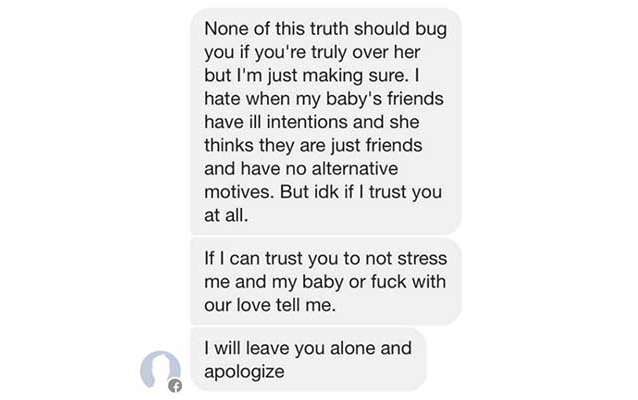 7. Then he goes right back into penis size.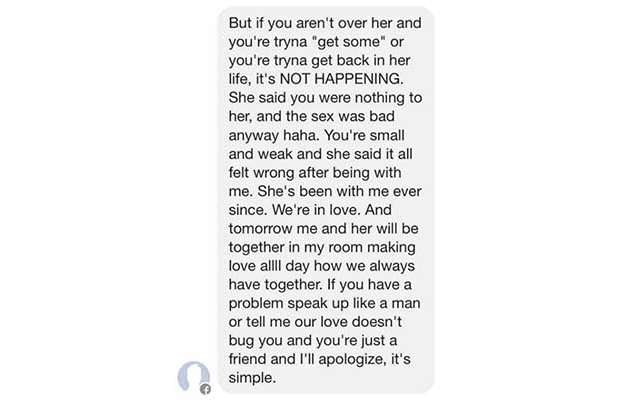 8. At this point, he has completely lost it!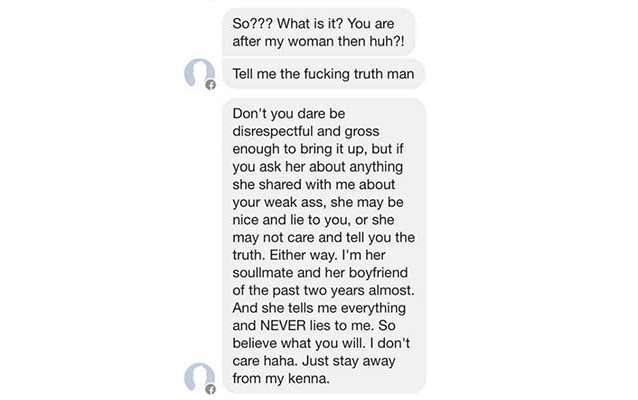 9. But at least he pays his "respects"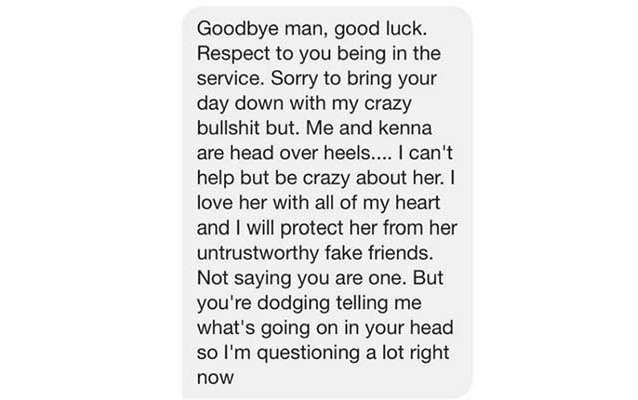 We doubt that this bro would have apologized as many times as he did if he wasn't typing. We're just happy no one got hurt, because this guy was WAY too close to the edge!
FIND A
DREAM LOVER
MESSAGE
Text directly with your Dream Lover using your own mobile phone.

TALK
Talk one on one with your Dream Lover using your own mobile phone.

SHARE PICTURES
Receive photos and media from your Dream Lover on your own mobile phone.
Like us on Facebook if you are chasing love in the 21st century
LIKE DREAM LOVER ON FACEBOOK
MORE ON DREAM LOVER