Jessica Jaymes, Brandi Love, And Aaliyah Love can NEVER Have Enough Shoes
PUBLISHED ON February 02, 2015 | STAFF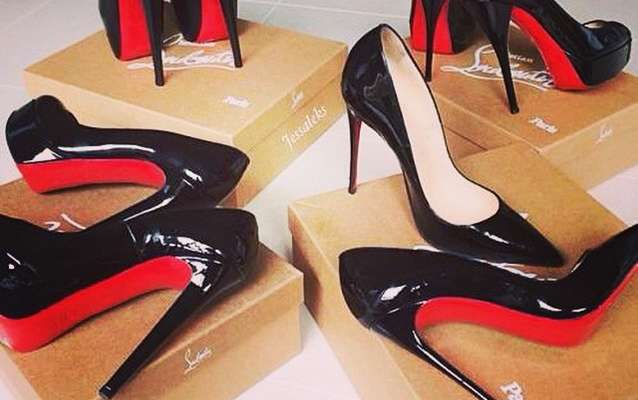 Girls love shoes...well, at least THESE ONES DO!
Jessica Jaymes, Brandi Love, and Aaliyah Love have proven through their various social media sites, like Instagram, that they are obsessed with the things they put on their feet. Flats, slippers, sandals, but mostly HEELS, these three Dream Lovers love owning fashionable shoes. Some prefer certain brands like Louboutin and Jimmy Choo, while others prefer a certain style. Some have an absolute favorite pair of shoes, while others just CAN'T decide. Here's the proof that these three ladies have a love affair with shoes:
Stunning brunette Jessica Jaymes owns about 200 pairs of shoes. That is A TON of shoes – almost a pair for every day of the year. She loves many different styles of heels and many different brands. She owns shoes by Giuseppe Zanotti, Christian Louboutin, Gucci, Miu Miu, Sergio Rossi, Alexander McQueen, Givenchy, Ruthie Davis, Jimmy Choo, Valentino, Saint Laurent, Prada, Balenciaga, Fendi, Ferragamo, Manolo Blahnik, and Dolce & Gabbana, just to name a few. She always looks sophisticated, classy, and elegant. Often, the heels she wears are what make her outfit complete.
A couple of months ago, Jessica went shopping at Barney's New York and picked up a beautiful pair of Miu Miu jeweled, ankle-strap sandal pumps. She took a picture and posted it on her Instagram to show all her followers about her recent score!
You will also find Jessica Jaymes posting pictures of her beloved heels on her Instagram, and she often asks her followers for advice. How awesome is it that you could help this gorgeous girl decide what pair of heels to wear for the night?
Of course this babe owns at least one pair of Louboutins, and they look amazing on her to boot...no pun intended.
Similar to her wine collection, Brandi Love has a ton of gorgeous shoes. In fact, she told us that she loves shoes more than wine. That is one serious love affair, because we know how much she loves wine.
Find out how Brandi Love and other Dream Lovers are wine enthusiasts here.
She owns just over 160 pairs of shoes with the majority of them being gorgeous heels. Brandi claims that her absolute favorite pair of heels are her python skin Jimmy Choos, but she is still a huge fan of red soles (a.k.a. Christian Louboutins).
Most of the shoes she owns are heels because she prefers wearing them, but if she does own any flats, they are definitely still very fashionable.
If this image doesn't explain how much Brandi loves shoes, we don't know what will. She had a picture taken in front of her shoe closet, or collection, whichever you prefer to call it. She says that her closet is still growing. So, this beauty has definitely not given up on her shoe shopping sprees.
This is a picture of her favorite pair of heels - her python skin Jimmy Choo stilettos. For Brandi Love, these stilettos are "ESSENTIAL" as she states on her Instagram post.
If this heel-wearing beauty isn't wearing stylish and fashionable heels, she will be wearing stylish and fashionable flats. Regardless of the type of shoe Brandi is wearing, she doesn't go anywhere without looking amazing.
Brandi's love for heels is undeniable. She feels more confident, beautiful, and sexy when she wears them. On her list of shoes to own next, Brandi says she would love to get a pair of Christian Louboutin "So Kate" in every color. if you want to buy her a Valentine's Day gift, there's an idea right there!
Just like Jessica Jaymes, Brandi Love owns an abundance of shoes. They could both be considered collectors. We wonder if they know about each other's love affair with heels?
This adorable blonde told us that her favorite type of heels are closed toe platforms. It doesn't matter whether they're colorful, bedazzled, nude, or solid colors. Aaliyah is a big fan of Betsey Johnson, Steve Madden, and Guess, among many other shoe brands. She also loves peep toe heels, and thigh-high stiletto boots as shown below. Aaliyah has an awesome collection. All of her favorite shoes are posted on her Instagram.
Over the past few months and weeks, Aaliyah has picked up a few new heels. Seen above are some of her recent purchases. She got a hot pair of blinged out peep-toe black booties, a colorful flower-designed pair of pumps, and some super sexy knee-high black leather stiletto boots.
Aaliyah owns about 60 pairs of heels and is still growing her collection. In fact, if you want to buy her a gift for Valentine's Day, you can check out her Amazon WISHLIST and buy her a new pair! She would love to be your Valentine.
FIND A
DREAM LOVER
MESSAGE
Text directly with your Dream Lover using your own mobile phone.

TALK
Talk one on one with your Dream Lover using your own mobile phone.

SHARE PICTURES
Receive photos and media from your Dream Lover on your own mobile phone.
Like us on Facebook if you are chasing love in the 21st century
LIKE DREAM LOVER ON FACEBOOK
MORE ON DREAM LOVER