Online Dating Confessions From A Woman In Her Twenties
PUBLISHED ON February 18, 2015 | STAFF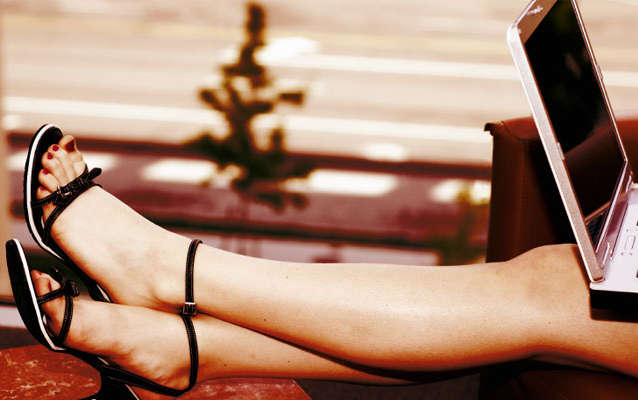 istock.com/imagesbytrista
I watched this hilarious video from Refinery29.com, and it made me reflect on my own personal dating experiences. As a single woman in her mid-twenties, I've experienced the "torment" firsthand... and the struggle IS real. In fact, online dating is probably one of the easiest yet hardest things to do, especially as a woman. That's why it's best to keep your sense of humor...because it can be so fun too!
1) Get Drunk And Omit (A Lot) Of Truths About Yourself
This is definitely one of the hardest parts of the online dating cycle. When I'm making my profile, I know what that my "type" is. Specifically, I am into dudes with light brown hair, ranging in height from 6'1-6'3, with green eyes, and preferably with a sexy accent and tan completion. This translates into "I prefer a funny, educated, fit guy but I'm very open-minded," in the online dating world. And, that's the easy part! The challenge comes in describing myself in the "About Me" section. Probably because it requires some thorough reflection about myself, and for lack of better description, one might say that I'm as shallow as a kiddie pool.
imgur.com

2) Cross Your Fingers And Hope You Don't See Anyone You Know
I will never forget the time I saw my old boss on Tinder when it first came out a few years ago. The crazy part is, I swiped right and much to my surprise we actually ended up being a match! As hilarious (and sorta flattering) as this was to me, I promptly blocked him. Needless to say, I couldn't make eye contact with him for a full week. I never, ever bought it up, AWKWARD. Now, when I have friends who say they saw my Tinder profile, I jokingly ask "You swiped left, right?"
insurgent.tumblr.com

3) There's Good And Bad...But Mainly Just Bad Dates
I try to make the best out of any situation with a positive attitude. If I divulged all the horrible dates I've had with guys I met online, I would be typing until Thanksgiving. I'll save those stories for my therapist, but tell you about my worst date. This involves a gorgeous French man with a super sexy man bun, at an upscale restaurant by the water. When I inquired that Frenchy tell me about his "roommate", he admitted it was actually his WIFE who was currently overseas. If that wasn't bad enough, she had just given birth to their 4-month old baby! Needless to say, I choked on my Chilean Sea Bass, and chugged down an entire glass of Chablis before running out of there as he said, "What she doesn't know won't hurt her." Yikes! It was in that moment that I realized I had finally reached the age of where a thorough ring finger examination was imperative.
weareshameless2.tumblr.com
4) Blab To The Besties
When I confide in my friends about an upcoming date, the first question is almost always: "How did you meet?" My resoundingly reply, "Online" comes out in a hesitant tremble. Half the time, it's cool; but the other half? I get the impression my friends are terrified for me. "Oh my God! Online? What if he- like- ends up being a serial killer? Or worse... a creep?" I remind them, that in this day and age, I'm not afraid to meet a stranger as long as I'm following him on Instagram/SnapChat or if we have mutual Facebook friends. They are usually curious about the date I am looking forward to, and rarely do I disclose the details. Rather, I mention...."Err, he wasn't my type."
broadcity.tumblr.com

5) Prepare To Have Your Hopes Dashed
On rare occasions, when I have met a normal, likable guy, I'm eager to see them again. After a third date, I will usually check the guy's online activity on the dating site periodically. Admittedly, I'm let down if I see that their last log was just a mere 21 seconds ago. When I do end up seeing them again, I'm skeptical of things they say about how they are feeling towards me. Nowadays, young, single people are multi-daters, so it's best to just have fun and see how long this rides out, with minimal expectations.
imgur.com
6) Delete Your Profile And Wait For Fate
I have a love/hate relationship with online dating. It's a classic case of having your cake and eating it too. I delete my profile when I feel like my dating life is a hopeless cause. Then, I realize I'm single, and end up trying to go out to meet someone new. But, living in a hook up city like San Diego isn't easy. So I find myself back in the app store on my iPhone. It's an annoying, endless cycle before I come to the same conclusion, repeatedly.
girlshbo.tumblr.com


FIND A
DREAM LOVER
MESSAGE
Text directly with your Dream Lover using your own mobile phone.

TALK
Talk one on one with your Dream Lover using your own mobile phone.

SHARE PICTURES
Receive photos and media from your Dream Lover on your own mobile phone.
Like us on Facebook if you are chasing love in the 21st century
LIKE DREAM LOVER ON FACEBOOK
MORE ON DREAM LOVER