Richelle Ryan Bleeds Blue For The New York Giants!
PUBLISHED ON January 30, 2015 | STAFF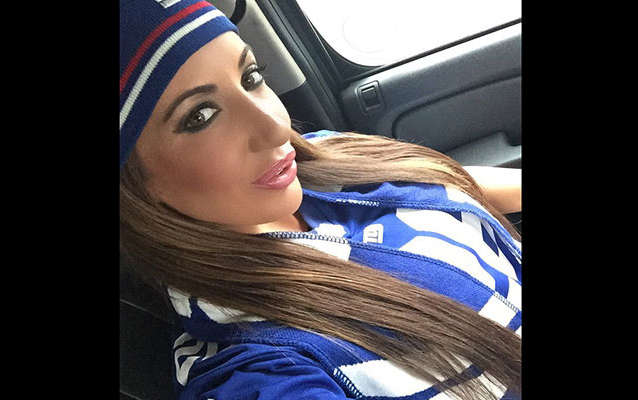 Richelle Ryan has been going to the New York Giants' games since she was only 5 years old. During football season, she is likely to be at Metlife stadium, where the NY Giants play home games.
She is willing to cheer for her favorite football team in freezing temperatures, jump on a plane to attend away games, and even got invited to participate in the Giants' charity basketball game.
We are pretty impressed with the ways that Richelle Ryan shows her loyalty to her football team. Her team spirit will probably make you question your enthusiasm towards your favorite sport's team. Why? Read on.

This is just how she feels during pre-season, FYI.

No matter where she goes, she loves to rock her Giant's gear!

She even meals prep with the Giants Tupperware. You can't find that in stores, people.

She's willing to buy and drink Gatorade that is labeled with her favorite sports team's logo.

Even her nails know the deal. Those decorative nails might take a lot of time, but a girl has got to accessorize!

She is willing to travel to away games ACROSS the country to support "Big Blue Wrecking Crew."

She loves to predict football games. She's even been featured in the NY Daily News.

And she's SO not afraid to talk smack about other teams, either.

She takes her friends to games...no matter what the weather is like outside.

The giant Giants fan still shows love to ex-players, even if they currently play on a different team.

She gets invited to actually PLAY with the NY Giants Charity basketball games. No big deal.

This lady is not afraid to bet on her favorite football team, either.

And is a good sport, even when she loses the bet. Look at her smile in that Cowboy's jersey.

But of course, like any fanatic she still gets a little sad when they lose a game.

OK, a lot sad actually.

But win or lose, she's one LOYAL fan.

Oh....did we mention that she has a tattoo?

And she is ALREADY waiting for NEXT season to start.

But if there's one thing we can all agree on, it's that Richelle Ryan DEFINITELY bleeds blue, and looks good doing it!
FIND A
DREAM LOVER
MESSAGE
Text directly with your Dream Lover using your own mobile phone.

TALK
Talk one on one with your Dream Lover using your own mobile phone.

SHARE PICTURES
Receive photos and media from your Dream Lover on your own mobile phone.
Like us on Facebook if you are chasing love in the 21st century
LIKE DREAM LOVER ON FACEBOOK
MORE ON DREAM LOVER