Waves, Water Sports, & Women!
PUBLISHED ON January 24, 2015 | STAFF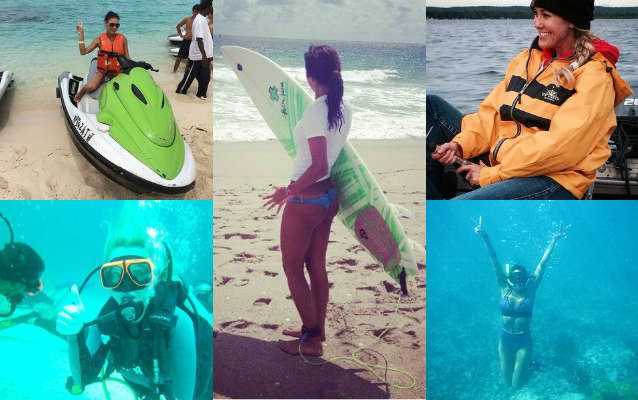 Are you a fan of water sports? If so, you're not alone. Check out the different hobbies these ladies like to do in the water!


Abby Lee Brazil rides the waves when she heads to the beach! This surfer looks adoringly out into the water, after a day of riding!


Nikki Benz says one of her hobbies is to go scuba diving! In this pic, she just finished shark diving in the Bahamas! The thumbs up means she had an awesome time!


Luna Star is living the life under water. She was in Mexico, and claims she was "born to be underwater!" Gotta love the excited look on her face.


Jessica Jaymes smiles after a day of jet skiing on a Sea-Doo! Looks like someone else was admiring the view too!


Brandi Love likes to cast a line, and reel in some fish! She kicks back in her boat, with a huge smile on her face!

Who knew that these ladies had different water sport hobbies? They are all so happy and passionate doing what they love. These adventurous Dream Lovers are living the life, on the land and the sea!
FIND A
DREAM LOVER
MESSAGE
Text directly with your Dream Lover using your own mobile phone.

TALK
Talk one on one with your Dream Lover using your own mobile phone.

SHARE PICTURES
Receive photos and media from your Dream Lover on your own mobile phone.
Like us on Facebook if you are chasing love in the 21st century
LIKE DREAM LOVER ON FACEBOOK
MORE ON DREAM LOVER